Free Following Directions Worksheet

Please share this free worksheet. Thank you!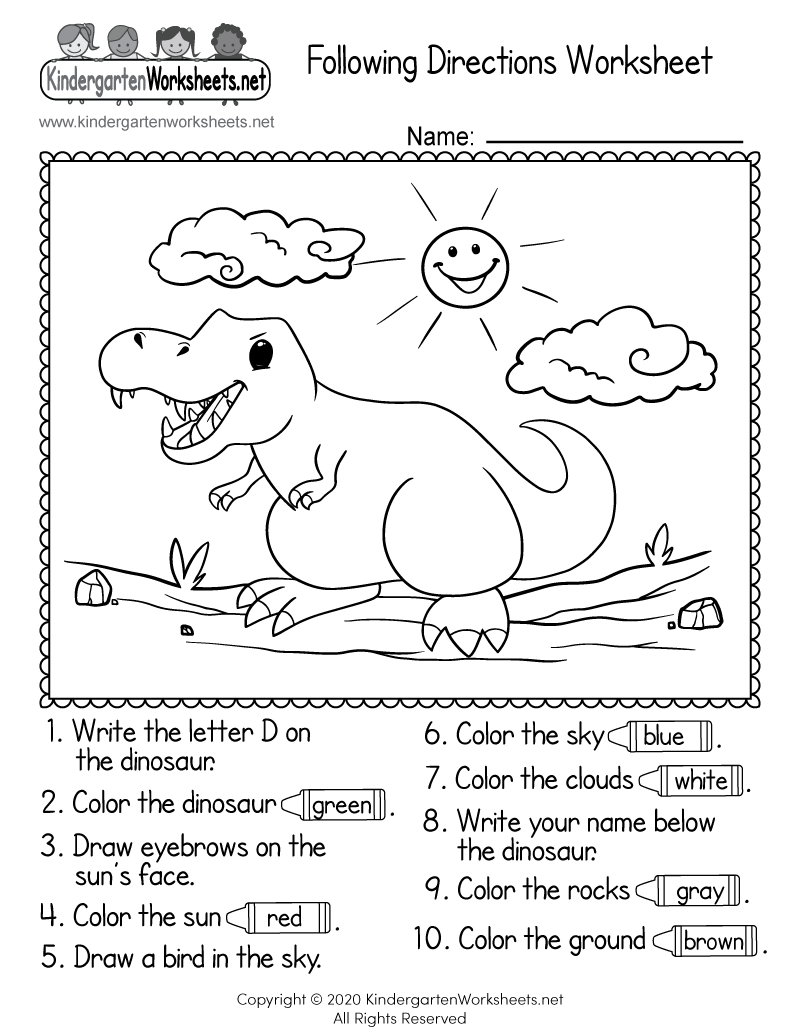 Following Directions Worksheet for Kindergarten
Kids need to follow a set of 10 instructions to correctly color, draw, and write on a picture of a dinosaur with a happy sun in the background. This printable activity worksheet is a great way for students to practice following directions.

Students can gain a better understanding of colors, read simple sentences, learn about the world around them, and develop their fine motor skills, all while developing their ability to take instruction. Learning how to follow directions is an important life skill.

We wanted to make it easy for teachers and parents to access our worksheets. This is why we made all of our free worksheets available in three different ways. You can download the PDF file, print the worksheets directly in your browser, or use the kindergarten worksheet online.

Here are the three versions of this kindergarten worksheet:

Following Directions Worksheet PDF - Download, Best Quality
Printable Following Directions Worksheet - Print Directly in the Browser
Online Following Directions Worksheet - Turns the Worksheet into an Interactive Activity

Tips on Using the Following Directions Worksheet
There are three icons above the free following directions worksheet. The first is labeled "Download" which will prompt you to download the PDF version of this kindergarten worksheet. Printing the PDF of this learning worksheet will produce the best results. The second icon is labeled "Print". Selecting this will take you to another web page that only has the following directions worksheet so that you can print the worksheet inside of your browser. The third icon is labeled "Online". This will take you to our kindergarten web app where you complete the social studies worksheet using your computer, iPad, or other tablet device.