Free American Flag Worksheet

Please share this free worksheet. Thank you!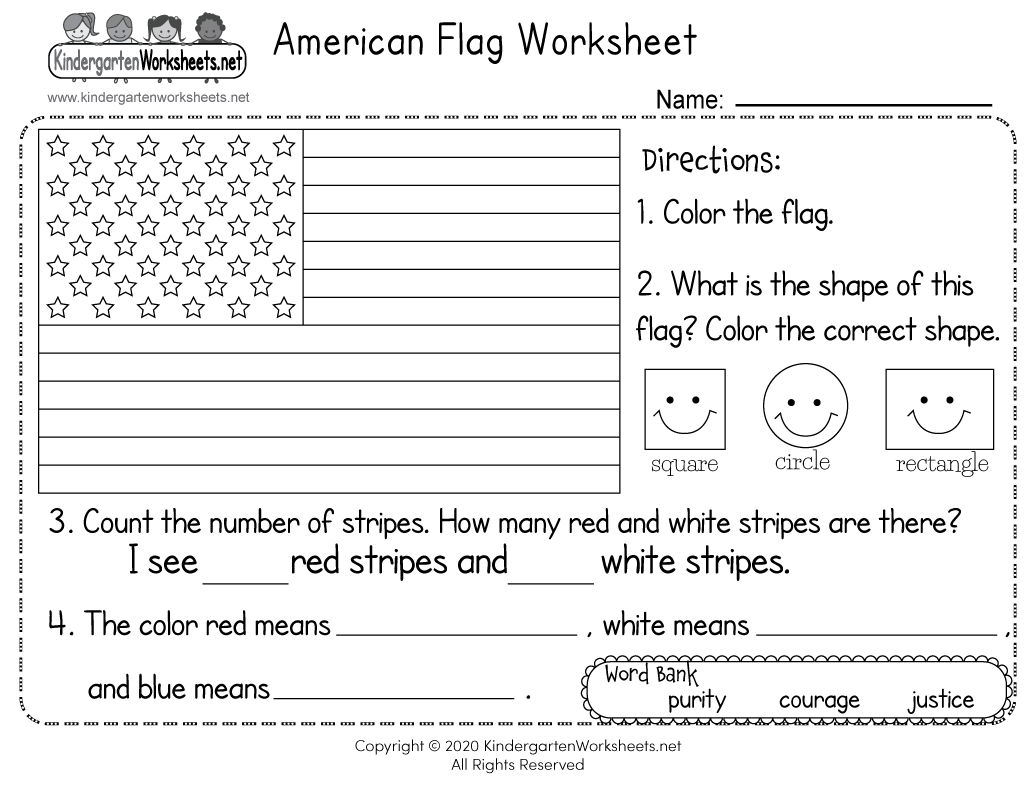 American Flag Worksheet for Kindergarten
Kids can color the American flag, count stripes, and answer a series of questions about this patriotic symbol in this free social studies worksheet.

Do you know what the colors and stars in the American flag represent? The colors of the flag have meaning with red symbolizing courage, white symbolizing purity, and blue symbolizing justice. The stars also have meaning. The stars represent the 50 states of America.

We wanted to make it easy for teachers and parents to access our worksheets. This is why we made all of our free worksheets available in three different ways. You can download the PDF file, print the worksheets directly in your browser, or use the kindergarten worksheet online.

Here are the three versions of this kindergarten worksheet:

American Flag Worksheet PDF - Download, Best Quality
Printable American Flag Worksheet - Print Directly in the Browser
Online American Flag Worksheet - Turns the Worksheet into an Interactive Activity

Tips on Using the American Flag Worksheet
There are three icons above the free American flag worksheet. The first is labeled "Download" which will prompt you to download the PDF version of this kindergarten worksheet. Printing the PDF of this learning worksheet will produce the best results. The second icon is labeled "Print". Selecting this will take you to another web page that only has the American flag worksheet so that you can print the worksheet inside of your browser. The third icon is labeled "Online". This will take you to our kindergarten web app where you complete the social studies worksheet using your computer, iPad, or other tablet device.