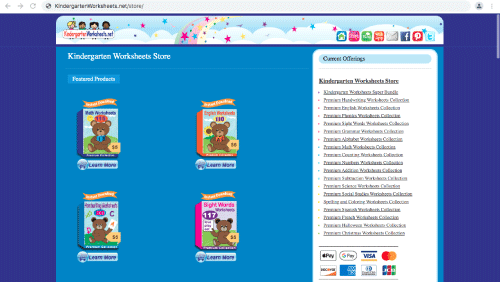 Purchasing our premium worksheet collections just became a little easier. Our Kindergarten Worksheets Store is now accepting Apple Pay and Google Pay as payment options! If you have Google or Apple Pay enabled on your computer or mobile device, you'll be able to purchase with just a few clicks. Google Pay only works when a credit or debit card is linked to it. In some countries where bank accounts are linked to your Google Pay account, the button may not show up.
Premium handwriting, English, math, science, alphabet, counting, numbers, social studies, sight words, and grammar worksheet collections are all available to purchase immediately. We also have Halloween and Christmas packages that are popular in the fall.
These paid collections help support the hundreds of free kindergarten worksheets on our website. They can be downloaded instantly after your purchase. The files are easy to use and print as they are all in the PDF file format. Our premium collections also include tips and information on printing the worksheets.
Thank you for your support! We really appreciate it!